Christmas time is here and your favorite vegan Latino(a) friend is going to love these gifts!! They are inspired by our love of Latino culture or they are made or curated by Latino business owners and entrepreneurs. It might sound cheesy, but this is the ultimate vegan latino gift guide. Así que ponte las pilas (get it together), and buy this for your significant other.
This post contains affiliate links.
Calaca Red Velour Turban
This one is so beautiful, I wish I could pull it off. Handmade by Mexican-born, San Diego native, Jessica Resendiz. She creates beautiful pieces inspired by her cultura, like this turban inspired by el Día de los Muertos. You can find out more about this gorgeous piece, and much more here.
Loly in the Sky Shoes
I can't decide between these two, but Loly in the Sky has a wide variety of vegan shoes and bags that are incredibly fashionable. Founded by Mexican entrepreneurs Lorena and Eduardo Vazquez these shoes are handcrafted in León, Guanajuato. You can find more shoes here.
Vegan Tamales Unwrapped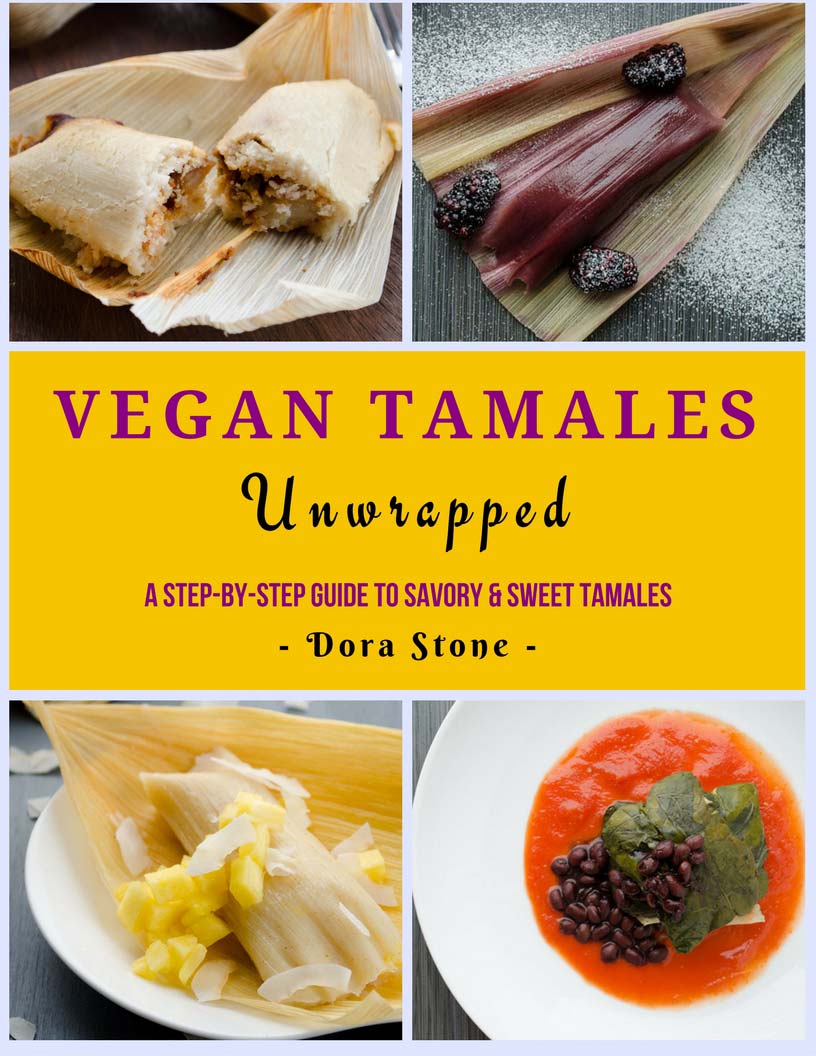 I couldn't leave this one out. A practical guide to make vegan tamales step-by-step. There are more than 16 different vegan tamal recipes and over 50 detailed pictures on how to make them. This one is authored by yours truly, me, a Mexican born vegan chef and entrepreneur. Take a look inside Vegan Tamales Unwrapped
Don Ramon T-Shirt
Should I even explain who Don Ramon is? This cool t-shirt is made by No Manches Clothing a company started by two Latino Chicago natives,  Miguel Angel, Chris, and Jorge. Their designs are inspired by culture, humor, and satire. Find more designs here.
Virgencita Vintage Jacket
Oh my gosh! I want all of these gifts. Hint, hint....husband. This jacket is made by Hija de Tu Madre, founded by Paty Delgado. Hija de tu Madre is an online store for Latinx inspired clothes, purses, and accessories. Find more beautiful items here.
Lil' Libros
Lil' Libros was started by Patty Rodriguez and Ariana Stein, both CA natives. They have created beautiful bilingual first concept board books, using stories and imagery from Latino culture. They are super cute, and the kids love them. I have the Loteria, and the Virgencita one. Check out the rest of them here. 
Good Mexican Girl Cookies
An artisanal bakery that specializes in vegan and gluten-free selections. They ship to your home, but it is only available in the U.S. Their specialty are Mexican wedding cookies or polvorones. To find out more click here.
Chingona Bracelet
Lisa Ila Rocha, based in L.A design jewelry by Mexican and Native American culture. Her designs are delicate, colorful, and on point. I could probably add like 10 more pictures of her pieces that I really like, but go see them for yourself. Click here.
Petit Vour Vegan Beauty Subscription Box
Ok, so this is not Latino related, but I decided to include it anyway. The simplicity of the concept, and the quality of the products make this subscription service so worth it. Petit Vour curates vegan beauty products in sample sizes and sends them to you every month! The items are also available for individual purchase on their site. Go check them out.
Mexican Hot Chocolate Gift Set
This Mexican hot chocolate gift set includes artisanal Mexican chocolate, a wooden molinillo for frothing your chocolate, and a red clay pot to bring it all together. This gift is from Hernán, a company founded by Isela Hernández, who turns out it is from the border town across from where I grew up, Del Rio,TX. She works hand in hand with artisan producers in Mexico to create or curate these products and sell them in the U.S. They also have a really good mole paste that is vegan! Visit her site here. 
Hola Bitches Notebook
These notebook is for your artistic or journaling friend. Hola Bitches is the brand of the Mexican gift shop Artelexia, which was founded by Elexia de la Parra, a Mexican herself. She travels the country looking for unique products for her Mexican gift shop, and she also organizes food tours of Oaxaca and San Miguel de Allende. There are many more great items to choose from here.
Mango Enchilado Bath Bomb
The cutest bath bomb ever! They are made by Brewbles, the creation of Catheryn Estefania Rodriguez Rangel, a 24 year old Xilangx/Mexican Immigrant. They are Inspired by cultura, and the nostalgic memories of her childhood. There are many other options on her site, but go quick because they sell out fast.
Concha Earrings
I love conchas, and what better way to celebrate them than to wear them. They are hand made by Stephanie Figueroa of the Monocled Mermaid shop on Etsy. She is a local San Antonio artist, you can find her here.