It seems like this year might be the year of cauliflower. It's all I see in my pinterest feed, cauliflower tacos, cauliflower buffalo wings, cauliflower rice, cauliflower pizza crust, etc. This is my take on vegan ceviche, and of course I use cauliflower. Lent started two weeks ago, and if you are Christian you know that means seafood in abundance. Cauliflower is the perfect substitute for fish in this cauliflower ceviche. It of course does not taste fishy, unless you add kelp powder or something like that to it, but it makes a wonderfully satisfying dish.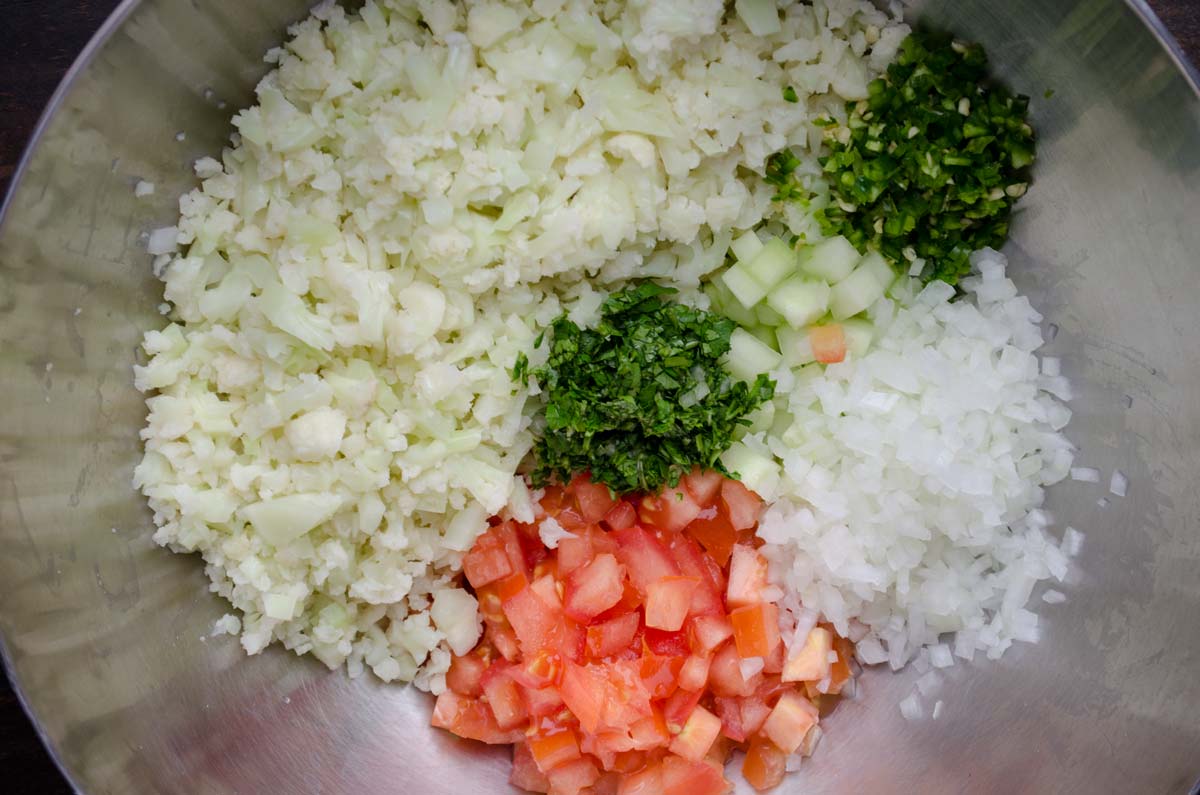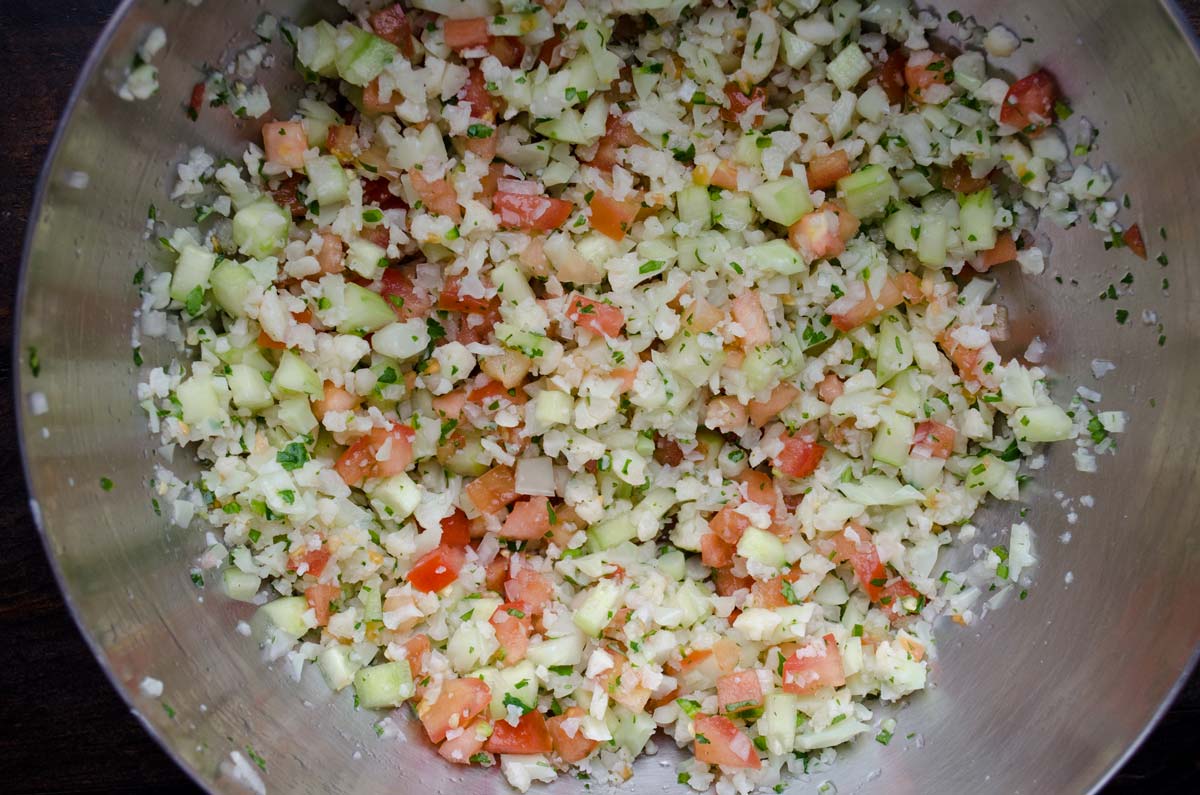 Ceviche differs from country to country. In Mexico you can find ceviche in a hot sauce/ketchup base or with tomato, chile, and onion. I chose the version without the ketchup. First cook the cauliflower in boiling water for two minutes then drop into a bowl of ice water. Chop it up and mix with cut tomato, onion ,serrano pepper, cilantro, and lime juice. Let it marinate for 30 minutes. The result is a tangy, spicy, and refreshing appetizer. Serve with tostadas or chips, and avocado.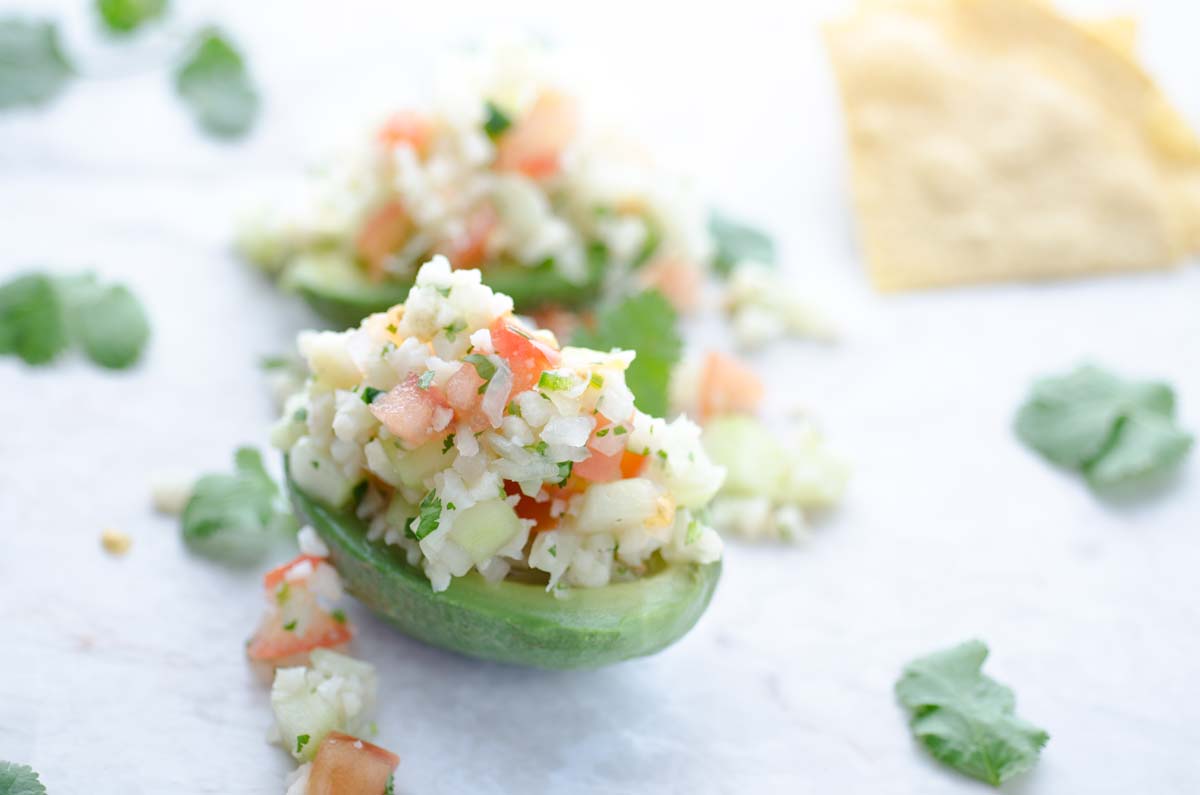 Besides trying to make cauliflower taste like fish, this lent I am doing something called 40 bags in 40 days. The goal is to take a couple of minutes a day to fill a bag with the stuff you don't need or no longer use. At the end of lent, you donate the items you collected, thus taking part in almsgiving. We live in a small apartment, so you would think there wouldn't be much stuff to get rid of, but there is. Plus my 6yr old is an avid collector of junk. He saves everything! It is going well so far. It's a bit liberating to let go all of the unnecessary items in our life.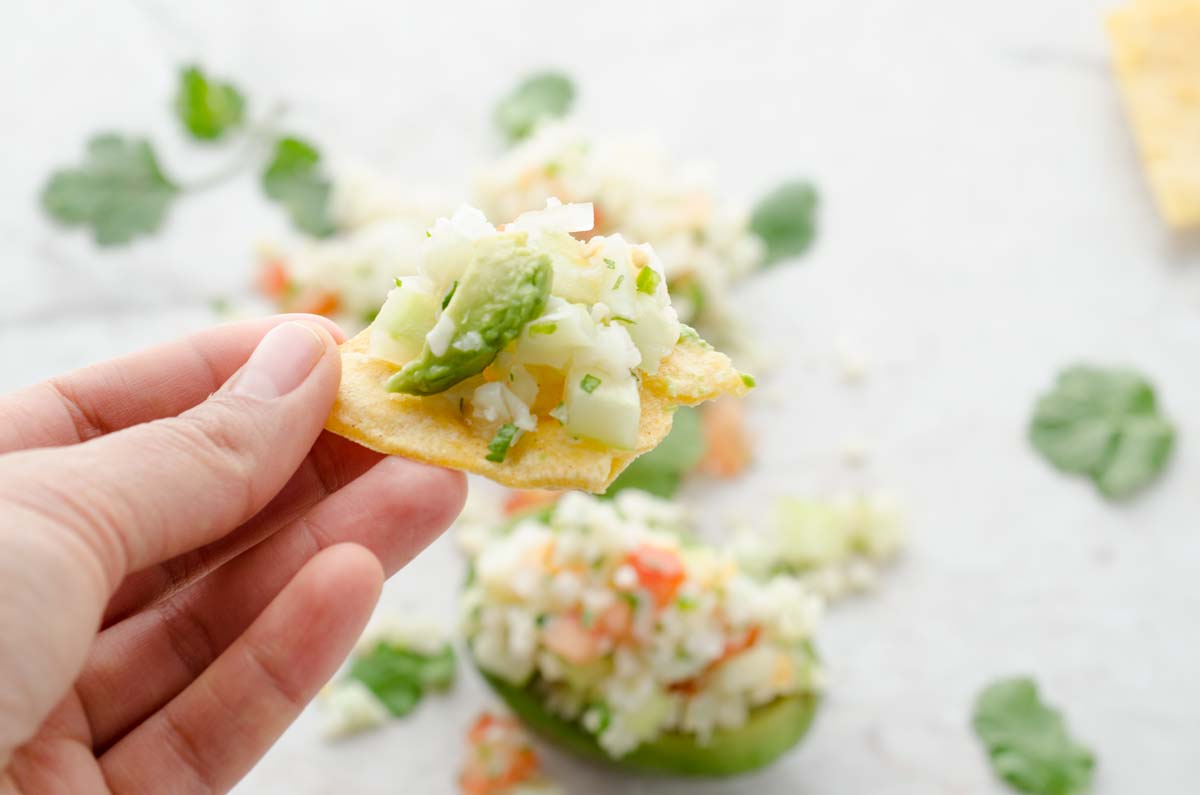 On a side note, don't forget to start saving your eggs for cascarones (Mexican confetti eggs). I always forget. What are some other ways you like to enjoy cauliflower? Hope you like the recipe. Enjoy!
The Recipe: Cauliflower Ceviche
Let your ceviche marinate for at least 30 minutes to let the flavor develop. If possible a couple of hours before would be best.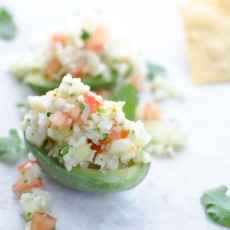 Cauliflower Ceviche
Ingredients
1

hd.

Cauliflower,

large, cut into florets

1

cup

Tomato,

diced

1

cup

Cucumber,

peeled, deseeded, diced

1

Serrano pepper,

minced

½

cup

Onion,

white, finely chopped

1

tbsp.

Cilantro,

chopped

3

tbsp.

Lime juice,

fresh

4

Avocadoes
Preparation
Bring salted water to a boil in a large pot set to high heat.

Fill a large bowl with ice and water.

Drop cauliflower into the boiling water and cook for 2 minutes.

Drain cauliflower and place in the bowl with ice water. Let cool.

Chop cauliflower into small pieces.

In a large bowl combine the cauliflower, tomato, cucumber, onion, chile, cilantro, and lime juice and mix well.

Season with salt and pepper, and let marinate for 30 min.

Adjust seasoning and serve on top of avocado halves with chips or tostadas.
https://dorastable.com/wp-content/uploads/2016/02/cauliflower-ceviche5.jpg
1812
1200
Dora S.
https://dorastable.com/wp-content/uploads/2016/09/logo-dorastable.jpg
Dora S.
2016-02-23 23:41:19
2017-01-18 07:28:12
Cauliflower Ceviche