It seems every time I go home I see Mexico in a different light. Last time it was Christmas and everything seemed so beautiful under the twinkling lights, our traditions so rich, and our heritage great. This time, under the sweltering heat of summer things seemed a bit more bleak. Nevertheless, the company and the food were as good as always.
I'm from a small border town in Mexico called Acuña. [I have written about it in previous posts.] I try to visit as often as I can, but this year for some deranged reason I decided to go in August. Due to the 106F weather, going around town delighting in street food was not at the top of my list of priorities. Instead I ate at the family restaurant as often as I could, where there was air conditioning and delicious free food. What else could a girl ask for?  However i did manage to visit a couple of street vendors before the trip was over.
My first stop was at Chilakas Burger. (Yes, Mexicans eat burgers too!) Their signature sauce is made from chile chilaca, which is a mildly spicy green pepper. The chile sauce and the mashed avocado smeared on the bun, gave the burger a unique Mexican touch.
Next I stopped at Helados Aguirre for a mango popsicle. This was not an ordinary mango popsicle, it had mango, chamoy, lime juice, and a touch of cucumber. It was cold, sweet, tart, and a bit salty. My mouth is watering just thinking about it. What amazes me the most about this place is the variety of flavors that they offer and the way they use fresh fruit in their preparation. Some of their flavors include coconut, tamarind, rice pudding, banana, cantaloupe, watermelon, pineapple, and strawberry.
I made a quick stop at Loncheria el Lechon which serves roast pork sandwiches with avocado, onion, mayo, mustard, pickled jalapeños, and tomato.
Finally after a long hot day what could be better than a yuki? Yuki is just another word for snow cone or shaved ice. I really enjoy this particular stand, because they use fresh fruit to make their syrups. My favorite is the tamarind yuki topped with lime juice and chile powder.
So there you have it, another trip to my hometown described mostly in food. This time around I tried to savor the small details of the trip, like the smell of chiles roasting on the comal (cast iron griddle), the joy felt when Mexico won the gold medal in soccer at the Olympics, kids having fun in the sun, and honestly just relaxing. It was nice to be able to take a break from the routine, spend time with loved ones, and eat.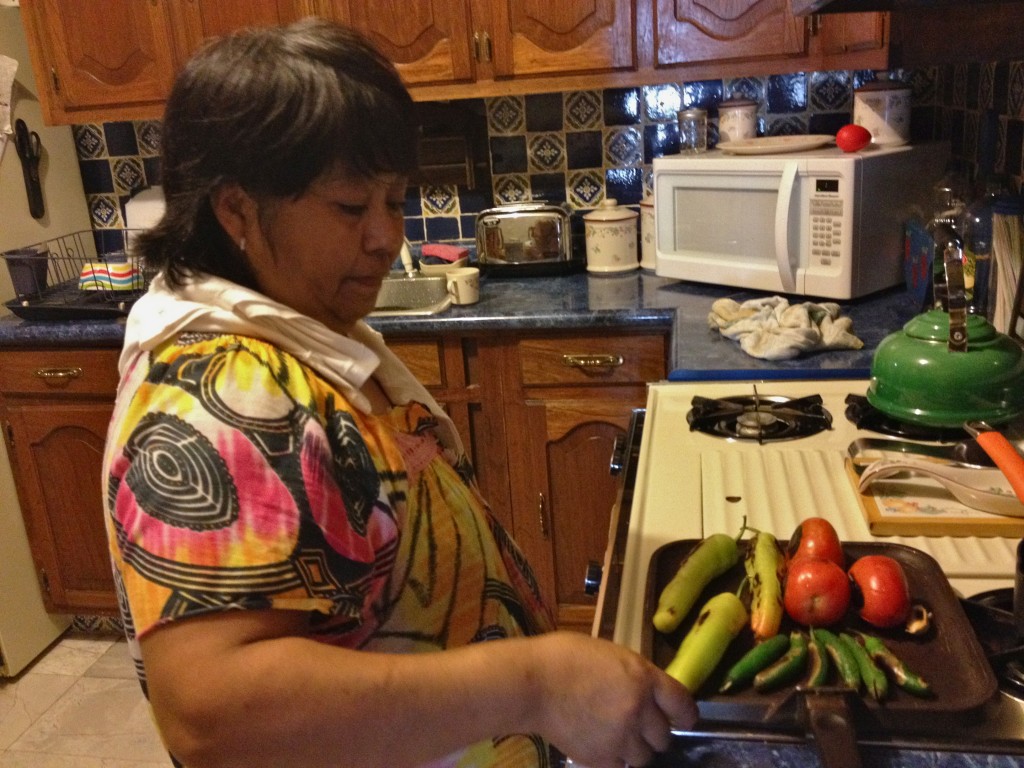 The Recipe: Salsa Molcajeteada
This salsa molcajeteada combines pan roasted tomatoes, garlic, and peppers to make a spicy and hearty salsa. They are pureed in a molcajete.
Salsa Molcajeteada
Ingredients
5

Plum tomatoes,

small

1

Beefsteak, tomato

1/2

Banana pepper

chile güero

1/2

Chilaca pepper

3

Serrano Peppers

1/2

Poblano Pepper

3

Jalapeños

1

Garlic

cloves
Preparation
Heat a griddle or cast iron pan to high heat. Place all of the peppers, tomatoes, and garlic on griddle until they become soft and slightly blackened, about 7-10 min.

Flip peppers, tomatoes, and garlic and continue to char for another 5- 7 minutes.

Remove ingredients from griddle and set aside. Peel most of the dark burnt skin off of the tomatoes and chiles. You can leave a little bit for the smoky flavor.

Start grinding ingredients in molcajete one at a time. Once the desired consistency is reached, add the next ingredient and keep grinding. Season with salt and pepper and serve.

If you do not have a molcajete you can use a blender or food processor. Simply place all the cooked ingredients in the machine and pulse until the desired consistency is reached. I prefer it on the chunky side.
Chef's Notes
Polita has been working for my parents for years. In fact, she was my nanny for some time. This is her recipe, and she likes her salsas hot so be careful!
https://dorastable.com/wp-content/uploads/2012/09/img_2941-e1469088708483.jpg
525
700
Dora S.
https://dorastable.com/wp-content/uploads/2016/09/logo-dorastable.jpg
Dora S.
2012-09-01 23:37:15
2017-03-23 20:03:42
Salsa Molcajeteada