Just so you know, we are a participant in the Amazon Services LLC Associates Program and may collect a share from the links on this page.
This was not our first time in Legoland California, but it was our first time as a family of 5! I was a little bit nervous because I didn't know if our 1yr. old was going to enjoy the park at all. Thankfully, we had a great time and I wanted to share with you some Legoland California tips so you can also have an amazing family vacation.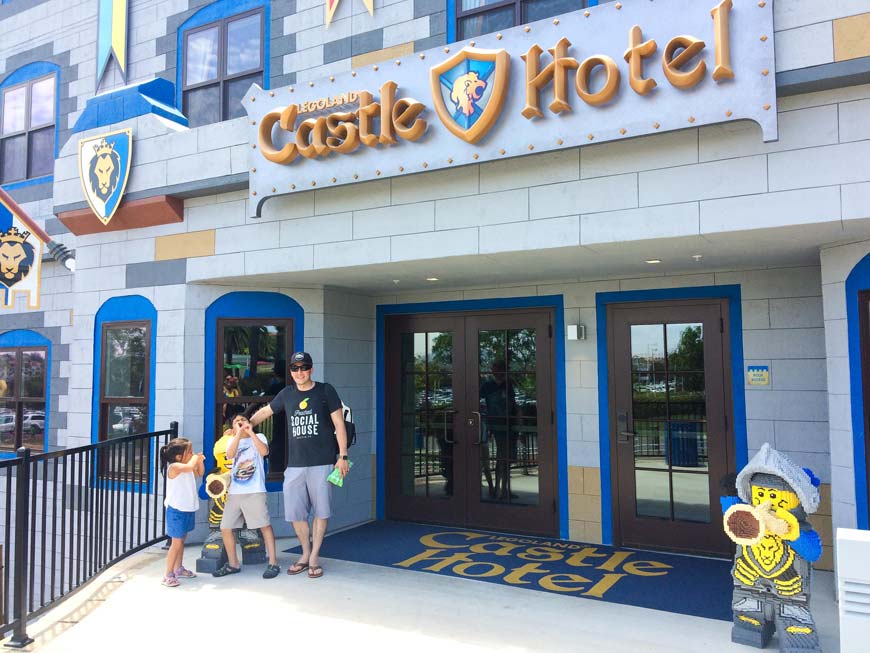 Plan to stay at a Legoland Hotel
There are two hotels in Legoland California the Legoland Hotel and the Castle Hotel (new!). We have been to Legoland twice now, once staying at the Legoland hotel and once as a day trip. We all unanimously prefer the trip where we stayed at the Legoland Hotel. It really changes the experiences for the kids, and the grown-ups too.
The hotel is basically lego heaven, there are lego themed rooms, nightly entertainment for the kids, and lego play areas all over the hotel. Staying at the hotel also includes a free breakfast buffet and early access to the park. For the parents, there's a bar located in the lobby of the hotel, and just the opportunity to take a break during the day, especially if you have little ones is great!!
If staying in the Legoland hotel is out of your budget there are hotels near Legoland California that would be a good options like Hyatt House Carlsbad, Carlsbad by the Sea Resort, Hilton Garden Inn Carlsbad Beach, and Fairfield Inn & Suites Carlsbad.
Use the Legoland App
The Legoland app was a lifesaver, especially the interactive park map. It made everything so much more efficient, no more carrying a round a flimsy paper map or wandering around to find a ride with shorter wait times. You can find ride wait times, show times, and dining options as well.
Hit the Waterpark Early
If you go in the summer, I recommend you go to the waterpark first. It is much less crowded in the morning than in the afternoon. Bring a change of clothes, so you can change afterwards and enjoy the rest of the park nice and dry. We stored all of our valuable items in the lockers and just carried around our towels in the waterpark, but I wish I had taken a waterproof phone pouch
so I could take pictures of the kids in the water.
The Best Legoland Rides for the Whole Family
There are so many good rides, but our favorites were the Adventurer's Club in fun town, Fairy Tale Brook, Heartlake Stables, Mia's Riding Camp, Driving School and Sky Patrol. Our little girl loved everything in Heartlake, and our older boy loved Driving School. In the water park our favorites were the Wave Pool, Duplo Splash Safari, and the Soak and Sail.
Enjoy Legoland Restaurants with Vegetarian and Vegan Options
I always carry around healthy cookies or bag of trail mix in my bag for trips like these, in case they are no vegan options available, but I was pleasantly surprised at the vegan options and the friendly staff who had no problem accommodating my requests. (Legoland does allow you to bring in small snack and water.)
We had lunch at the Castle Hotel (the restaurant is open to the public). Which I'm so glad we did, because it gave us the opportunity to cool off and enjoy a beer with our meal. I had the impossible burger, a veggie soup, and some hummus and vegetables. There are more vegan options inside the park as well. The Market, which is a sort of convenience store/café has plenty of nuts, chips, baby pouch purees, fresh fruit cups, and popsicles.
Fun Town's Urban Kitchen has a nice salad bar and they offer a tofu and veggie bowl as well. Wok n'bowl ramen has a tofu stir fry with rice, and in the Ninja Kitchen there is a tofu Bahn mi. Last but not least the pizza and pasta buffet has a huge salad bar and you can order a cheese-less pizza or some noodles with marinara.
Disclaimer:  I received two complimentary media passes to Legoland, but all opinions and thoughts are my own.
https://dorastable.com/wp-content/uploads/2018/09/legoland-11.jpg
653
870
Dora S.
https://dorastable.com/wp-content/uploads/2019/10/DORAS-TABLE-GUIDELINE-19.png
Dora S.
2018-09-27 14:10:21
2018-09-27 14:12:51
Legoland California Tips for an Amazing Vacation